Phar-City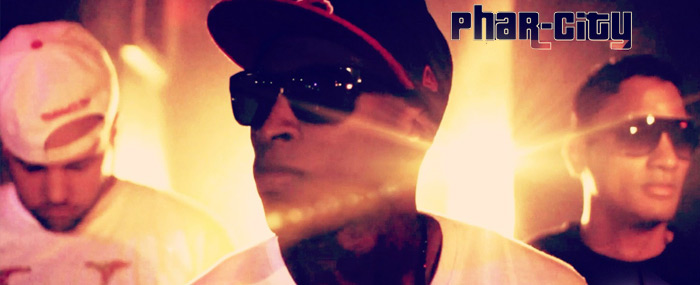 Connecticut is often an overlooked region in niche Hip Hop. While the small state has a music scene that's been thriving locally for decades, the ratio of crossover success has been minimal. Phar-City is out to change that. Combining all of the sonic essentials in Rap, these three men are geared to be the real Talk Of CT…and beyond.
Recent collaborations with the likes of Ray J, Trey Songz and T-Pain have earned Phar-City new fans nationwide, and they are steadily recording fresh music for their upcoming debut Black Book: The Single Life set for release on September 18, 2012 via iTunes.
Phar-City hit the ground running early on, tackling the music industry from all angles. Each member brings something unique to the table, uniting the gritty witticism of Crisis with Sho-Off's smooth lyrical hustle, plus the innovative musical mastery of DJ Dollasign via his Beatdown Da Beats production.
Phar-City released four strong Talk of CT mixtapes, two of which were hosted by New York's Hot 97/Sirius Radio powerhouse DJ Kay Slay, with part four (released March 2010) hosted by DJ Whoo Kid and DJ Dollasign. Their winning mixtape formula? Don't treat them like mixtapes.
"I think the biggest success was that we made the mixtapes like albums," DJ Dollasign explains. "We used a majority of original beats and made songs. Artistically and business-wise we learned that you have to give the fans and new listeners consistency. These days peoples ears change by the month. You have to give them product they will wanna keep listening too over and over."
"I learned that your street audience is different from your radio audience but are both equally important," adds Sho. "So everytime I wrote for the streets, I wanted them to love what I was saying just like the people did on radio." It's a balance few have acknowledged, but Phar-City is determined to master.
Black Book: The Single Life is a project that reflects the single lives of Crisis, Sho-Off and DJ Dollasign in the digital age.
"With our new project we touched on the 'single life.' The album carries the feeling of not being able to 'settle down,'" says Crisis. "Part time loving with females who are already taken but their needs aren't fulfilled and basically songs explaining the different types of beautiful women in this world that every man fantasizes about!"
Features include vocals from Ray J, Kevin Cossom and Range, with original production from DJ Static on "Part Time Lover" and by DJ Dollasign's Beatdown Da Beats on the rest of the project.  "You can definitely go from the 1st track to the last track without skipping," says DJ Dollasign.
"I think the energy of it is great," continues Crisis. "It's a fun album that both fellas and females can relate to."
"We kept the theme consistent with our other projects," explains DJ Dollasign. "We focused on the female audience, but still gave the fellas something they could relate to and knock in their whip."
The group prides themselves on being "femal-aholics," evidenced by songs on The Single Life like "Young Sexy Lady" (a modern-day "PYT") and "Sex Symbol," while tracks like "In The Zone" show the lyrical element is always present. Their videos will add to that aesthetic.
"I think fans will learn from watching our new music videos is that Phar-City is a cool ass group, with cool-ass songs, that dress in cool-ass clothes, but like hot-ass women," jokes Sho.
Creatively, the group works intently to get the right sound for each track they produce. "It just works, there's no way to explain it really," says DJ Dollasign of their chemistry. "We just go in, and a few hours later a hit is made. We criticize each other's verses and I think that makes us a strong team. We do this for the fans that don't want to hear the same stuff they've been hearing for the past few years."
Over the past year their method has been perfected. "We have just gotten more comfortable with our sound and now know exactly what we want to do," Sho states. "So anyone that has heard our music before and liked it will no doubt love what we're doing now."
Phar-City's fan base is constantly growing, with live performances that aim to establish a real connection with the people. "We don't hop on speakers or stage dive, but we definitely give people a show," says DJ Dollasign. "We always bring a few goody bags to show the fans some love, like bringing girls roses and throwing t-shirts out."
The importance of relating to fans outside of their region is vital to Phar-City, and their foundation with music in their home state thus far has definitely set the proverbial stage for success.
"I think we're important to Connecticut, because we've been the most consistent group out here," DJ Dollasign asserts. "Our Talk of CT mixtape series is serious, with over 50,000 sold. It's to the point where we have to drop a new one, because the people in the streets are asking for it."
Having already conquered Connecticut, Phar-City is geared to take on the rest of the world. Delivering regional flair with an edge is their forte – and with Black Book: The Single Life, the trio aims to relate to their audience on a whole other level. It's a recipe for success and the product of three beautiful minds put to work.
"Individually we are dope," closes Sho-Off, "but when you put us together it's like Voltron – no one can f*ck with us."
For interviews and press information, contact dove@tygereye.net
"Go Wild" from Black Book: The Single Life