David RUSH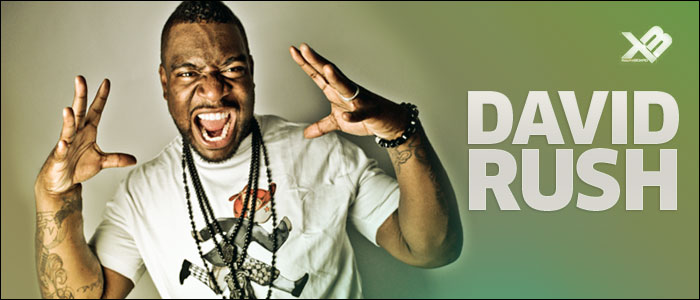 David RUSH's career has been punctuated with moments that have only made him stronger. The New Jersey native endured a potentially fatal kidney disease, leaving him on dialysis, which inspired his 2011 webseries RUSH[ED] complete with the DJ Whoo Kid hosted mixtape RUSH[ED]: The Soundtrack.
What happened in the two years following RUSH[ED] has been a combination of magic and tragedy. As David RUSH readies his latest project This Can't Be Life, he still has one goal in mind: to make you feel the rush.
Growing up in Highland Park, NJ, David found his talent at a young age. At eight years old he was writing rhymes, battling the older kids in cyphers and recording tracks through minimal means. Despite realizing his passion for music, David opted to attend the Art Institute of Atlanta for video production.
The move proved to be serendipitous, as David (then known as Young Boss) aligned with Atlanta producer Soundz to craft the club anthem "Go Girl." The cut traveled down to Miami, where Pitbull heard it and signed David to his Mr. 305 label. "I'm proud to be a part of his movement," RUSH says of working with Pitbull.
By 2007, though, things took a turn for the worse. David was diagnosed with Focal Glomerulosclerosis (FGS), characterized by scarring of the kidneys. He was given only a year to live.
David beat those odds tenfold, even managing to squeeze in some career milestones like working with Lil Wayne's Rock prodigy Kevin Rudolf on "Shooting Star" with the remix by LMFAO. By 2010, David lost 100 pounds, had a kidney transplant and by 2011 dropped his debut EP via Mr. 305 in conjunction with his own Xequtive Board Music Group imprint.
Last year, was a "rush" indeed. David was part of Pitbull's Canadian Planet Pit Tour, which included dates at Calgary, Regina, Winnipeg, Ottawa and Toronto. "What a great experience that was," RUSH recalls. "We traveled from West to East hitting at least 12 cities every night. It was definitely a great time."
David dropped his Moon High mixtape, featuring the torch track "Kool Down" with Mickey Shiloh, clocking in at over 50,000 downloads. The mixtape also had appearances from Houston rapper Propain and XBMG artists D Roy X and Vaughn J.
However, toward the end of 2012, David had another hurdle to overcome, as his mother passed away from liver failure. Turning tragedy into triumph, David has increased his role as a spokesperson for NXStage, a company that markets home hemo-dialysis machines. He has done speaking engagements for NXStage in Houston, Nashville, Washington DC, South Florida and Phoenix.
"My life over the past few years has been so detrimental to my career," David explains. "Between having my kidney transplant, the birth of my two children who are 11 months apart, and the passing of my mother – with every twist and turn, tragedy and success, each experience has built a block in this mountain of my life everyday."
In February 2013, David dropped the Pitbull-assisted "All Night" via Ultra Records, ultimately setting the stage for This Can't Be Life.
"I can't tell you what to expect, but I can tell you what not to expect," David says of the upcoming mixtape. "Don't expect me to stay in the same lane, don't expect a whole bunch of one-style words. Expect to be taken to the moon!"
David coined his genre-bending style of music as "Moon Muzik," and there will be plenty more of that. "I never like to be considered just a rapper or Pop artist," he says. "I want to be able to swerve in whatever lane I want to, with no one telling me what to do. I do what I want; I'm confident that what ever type of lane that I'd swerve in, I'm going to be the best in it."
His latest single, "Reckless Party Goer" has already fanned the flames of his upcoming project. The track, produced by Nick Rio, is the embodiment of freedom according to RUSH.
"My feelings – the way I handle myself and my music – are one thing. There's no difference," he says. "I've learned to appreciate the gifts I have in life and I turn around and poured all that into my artistry. It made me who I am to this day."
As David RUSH enters the next phase of his career, he carries with him a series of life experiences that will undoubtedly influence his music for years to come. With This Can't Be Life, it is just the re-beginning.
"I've been given a new chance on life – created lives with my own two children and witnessing life lost with the unexpected death of my mother," David explains. "I have a lot to offer the game and I owe this to myself."
For interviews and press information, contact dove@tygereye.net