Soul Mafia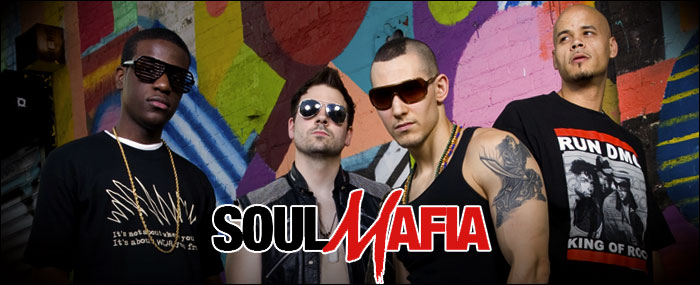 A jazz saxophonist/rapper/guitarist who looks like an MMA fighter; a classically trained pianist turned Hip Hop producer infatuated with '80s rock; a foster kid from Indianapolis who channeled his pain like a Hip Hop Marvin Gaye; and a young percussion phenom born and bred in Crown Heights, Brooklyn who rivals the loudest rock drummer you ever heard… In Soul Mafia, musical genres crash as often as cymbals.
With their new single and video "I Can't Get Enough" dropping February 2010, their full-length album MK Ultra coming this Spring and the Wasted Tour in planning, Soul Mafia is ready for the world!
Nearly a decade ago, front man GC and keyboardist/producer Prism came together in New York and began developing the Soul Mafia sound. They engaged in a trial by fire of open mics, battles, self promoted shows and guerilla marketing tactics to brand the budding group. They formed Pursuance Inc., the production wing of Soul Mafia, and garnered music placement on the likes of FOX, ESPN and MSG, which in turn enabled them to finance their grass roots efforts.
The early years were characterized by a revolving door of supporting players, but after several line-up changes, GC and Prism found the missing elements of Soul Mafia in drummer Lil Dee and vocalist Iam Beck. Iam describes GC as "the culmination of true business ethics mixed with a lot of hard work," while GC elaborates on his bandmates with lyrical finesse that elicits passion for his band beyond the boardroom.
"Prism has been a loyal and visionary partner," GC says. "His genius is to hear music in colors, and this gives his production and synth work a level of nuance and balance that many producers and mixers can spend a lifetime trying to achieve. Iam is like a Phoenix rising from circumstance that would leave an ordinary man crushed. Lil Dee is the young stallion of the group, feeding the engine with the occasional nitro charge, pushing the train just to the point of veering off the tracks, all the while maintaining a stoic swag. I think all of us were born with the gift and curse of being musical conduits, and therefore, there is no plan B."
It is increasingly evident that to be successful in the current landscape of music, artists must, for their own survival, become multidimensional. Lil Wayne conjured his inner rock star and marched to multiplatinum; Linkin Park blended programmed drums and rap with big guitars and soaring vocals to grow an international fan base; Kanye West reinvented himself as an emo singer on 808s and Heartbreak, and the list goes on. Blame it on the internet or globalization, but the walls separating musical styles are increasingly looking like lines in the sand… and Soul Mafia is a wave.
Drawing from their influences, hints of Prince, Billy Idol, Daft Punk, B.I.G., and even Coltrane and Beethoven dance in and out of Soul Mafia's upcoming MK Ultra album.
"As our first real recorded work, this album means everything to us," expresses Prism. "Soul Mafia has come so far from where we first started. It has slowly evolved into the beast of a band that we are now. To this point, this album represents all the struggles, hardships, victories, changes, blood, sweat and tears that we have dealt with along the way."
Prism cites "I Can't Get Enough" as his personal favorite song on MK Ultra, summing it up as "their addiction to living and breathing music." GC is drawn to "Wasted" for its strong message. Iam explains that "All I Need" is a dedication to people dear to them. "Of course it had to be in the true Soul Mafia fashion – hard and balls-out loud!" he laughs. Meanwhile Lil Dee embraces the soulful "Reaching for the Stars," which offers Hip Hop sensibility and a spiritual vibe with rock ballad ferocity.
With the inner circle established and battle tested from Detroit to South Carolina, these four talented men are well prepared to greet new fans across the country on their Wasted Tour this year. Forged through years of struggle and sacrifice both as individuals and as a collective, Soul Mafia is prepared to go the distance. In the words of GC: "Might lose my shirt, but never the shoes; receipts you keep when you pay your dues."
For interviews and press information, contact dove@tygereye.net
"I Can't Get Enough"