Needlz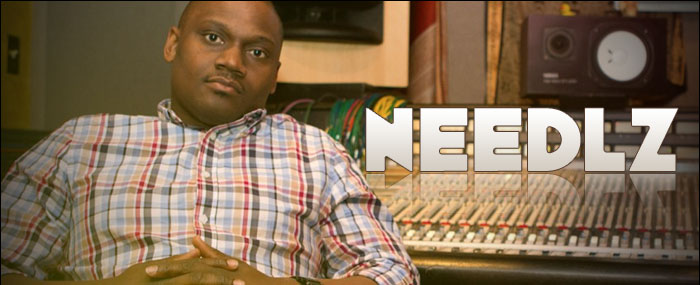 In 2005, Khari "Needlz" Cain became a household name in the Urban music scene, and now he is hitting mainstream fans with his incredible work in the world of Pop music.  After creating hits for the likes of Ludacris, 50 Cent, Drake, Fabolous, Talib Kweli, Scarface and Lupe Fiasco, Needlz co-wrote and produced Bruno Mars' Grammy-winning single "Just The Way You Are." The song topped the charts in seven countries, and also earned Needlz a 2011 ASCAP Pop Award and a 2011 Billboard Award.
Needlz also just signed on as the first client to be represented by Universal Music Group's newly formed management division. As if that success wasn't enough, the brilliant young producer is building upon his own production company, Dry Rain Entertainment, with emerging Hip Hop artist Honors English.
A native of Lansing, Michigan, Needlz picked up on music from listening to his father's extensive jazz collection.  The young prodigy began DJing, and became a permanent fixture at parties and local clubs during his early college days at Florida A&M University. Needlz, who took on the name Needlz after surviving a bout with cancer, began producing as a hobby, and by 2000 he was en route to New York City to pursue his music dreams.
While working on a graduate degree in Music Business at NYU, Needlz utilized an internship at Bad Boy Entertainment as a testing ground for his production talent, and caught the ear of industry professionals like Francesca Spero and Folayan Knight. Knight began to manage Needlz, and he soon gained critical acclaim for his work on the infectious single "Think Ya'll Know" from Fabolous' 2003 mixtape album, More Street Dreams 2.
In 2004, Needlz' signature high energy production brought him to the forefront of popular music with the debut single from G-Unit artist Young Buck entitled "Let Me In". The vibrant track became an instant hit, helping to push Young Buck's album, Straight Outta Ca$hville, to platinum status. "Let Me In" was also nominated for a 2004 Vibe Award for 'Street Anthem of the Year'.
In 2005, Needlz diversified his production activities with two tracks on the Coach Carter Soundtrack, "Piggy Bank" and "God Gave Me Style" on 50 Cent's monster LP The Massacre, "Crack" for Cassidy's album I'm A Hustler, and "Throw It Back" for Trina's The Glamorest Life. His songs appeared in 50 Cent's Bulletproof Music video game, and in 50's feature film Get Rich or Die Trying. Needlz also landed the television theme music for both BET's Rap City: The Bassment, and MTV's Sucker Free Sundays.
Needlz pressed on over the years to work on dozens of projects, including albums for Lupe Fiasco, Lloyd Banks, Dave Chappelle, Joe Budden, Busta Rhymes, Jadakiss, Rakim and Jeezy, but it was his contribution to Bruno Mars' 2010 debut album Doo-Wops and Hooligans that made the biggest wave. Venturing into the pop scene has been a welcome adventure for Needlz, expanding his horizons on many levels.
"I guess my outlook has changed," Needlz explains. "I'm all about having fun exploring different genres of music so I can expand my sound.  For the last few years, I've taken a much more hands-on role with my career by managing myself. It's been awesome brokering my own deals and making my own moves.  I do have hits, but now it's about getting the masses to be familiar with me."
Fortunately, it does seem as though familiarity is beginning to run strong. In January 2011, Bruno Mars, Needlz and The Smeezingtons were awarded the Grammy for Best Male Pop Vocal Performance on "Just The Way You Are". The industry has also taken note of the young producer's growth, and longtime friend Francesca Spero recently looped Needlz in as the first client for Universal Music Group's new management division.
Throughout the years of running his own Dry Rain Entertainment, Needlz has had the distinction of being able to hand-pick emerging talent to develop. His latest and most visionary venture to date is with lyrical firepower Honors English, and a full-length album is in the works.
"I think Honors English is an artist that has something to say, and knows how to articulate it in an interesting way," says Needlz of his latest protogé.  He's from the streets, but doesn't dwell on the negatively associated with his upbringing.  Instead, he finds ways to address those issues in a witty way.  He's a smart guy and is easy to work with."
Beat creating is only half the battle for producers in such a competitive market. Needlz feels that the qualities that set him apart from other producers have been noticed by fans over the years.
"My sound is an oxymoron – it's dirty and clean at the same time," says Needlz. "It's polished to meet the standard of today's music sonically, but it has edge to it. I think my sound evolves with the times, but people can always tell it's my work most part. I try to add character to every sound I choose – I rarely use factory sounds.  I'm always tweaking and freaking, and once I'm done, I usually have a composition different from the norm.  I try to make them as universal sounding as possible."
If you know how producers think, you already are aware that their songs become like children in their family.  And while it's never easy to pick a favorite, Needlz does have some stand-outs in his career.
"I liked Drake's 'I'm Goin In' record a lot because of the way the record came about," he explains. "It was something that started out as a mixtape record and ended up going Top 40 on the Billboard charts.  That record had legs. Of course, I love the Bruno Mars record because it was an honest love song that people gravitated to.  But I would say my favorite has been this Honors English project.  I spent a majority of 2010 working on the EP, and I think it's my best work to date. I've been very hands-on, from the music to the videos to the website. I hope people like the project as much as I do."
For interviews and press information, contact dove@tygereye.net