2P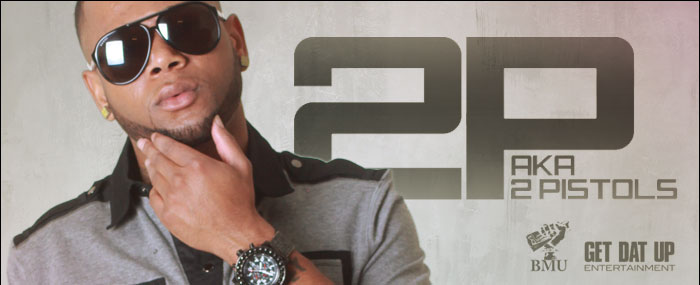 In the past decade, artists from the South have added an addictive urban twist to pop music around the world. From Cee-Lo and Andre 3000 to Flo-Rida and Pitbull, dance floors everywhere have ignited with mashups of hip hop, rock, pop, dance, soul and world music in futuristic ways. Since his debut in 2008, Florida native 2P (formerly known as 2Pistols) has been creating his own vision of new era urban pop.
On April 24, 2011, 2P will debut his new mixtape The Rapture via his own Blood Money Union imprint in association with Get Dat Up Entertainment. The original project features appearances from Kelly Rowland, Gucci Mane, Bobby V and more, backed by talented producers like FatBoi, whose collaborations include Jeezy, Gucci Mane and Flo-Rida.
Now independent from Cash Money Records, 2P is reveling in the opportunity to release his own brand of musical passion. His new single "I Love Myself" fuses early '90s alternative rock and 21st century hip hop for some radio-friendly fare.
While 2P has been open about his troubled past, the young lyricist admits that the full scope of his experiences has brought him to a better place in life. After balancing dreams of sports and songwriting as a teen, 2P took up with some illegal dealings that led him to incarceration and eventually probation. By 2006, he was promoting concerts and nightclub events in his home of Tarpon Springs, Florida and surrounding areas near Tampa.
Always locked in on his desire to perform, 2P built a network of local music industry professionals, DJs and artists, which he dubbed Blood Money Union. The young songwriter's musical track record eventually caught the eye of Tampa production team J.U.S.T.I.C.E. League, and led him to an official deal distributed through Universal Republic in 2007.
By 2008, 2Pistol's T-Pain assisted single "She Got It" was at #7 on the Rhythmic Top 40 chart, and hit #2 on the Billboard Hot Rap Tracks chart. In 2009 he signed with Cash Money Records, and opted for independence in 2010.
Though his time with Cash Money was brief, 2P took some valuable life lessons with him for the next stage of his career.
"Cash Money showed me how to record my music on a national level, and to fully express myself through songwriting," explains 2P. "I also learned that it needs to be business first, friends later in this game. Slim told me, "You can be a rapper or a star. Forget rich, this is about wealth. There are millions of rich people, but only a few thousand wealthy.'
"Also, Universal started my career. Universal Republic has the #1 radio team so far – I haven't seen anybody work a 2P record on their level. I have much love and respect for them all – you wouldn't know me if they didn't take a chance."
In addition to learning the high stakes of business in the past few years, 2P has also seen his personal life blossom in ways he never thought possible.
"I feel that I see life through a different pair of eyes now – I see what life should be like," 2P asserts. "I feel very blessed to know that a small town guy with a big city hustle can beat the odds if he sets his mind to it. Because of my experiences, I've also got a better relationship with my daughter. I really made an impact on her by becoming successful, and she knows that she can become anything she wants to become."
Every good artist will credit mentors in their careers, and 2P found that some of his most valuable life advice came from prolific songwriter and producer David Banner when they toured together.
"Banner said to me, 'God can give it and God can take it away – it's all about what you do with it when he gives it to you'," recalls 2P. "Knowing that a person that sold 20 times more records than me can still be human, not let the limelight control them and still keep God first is amazing. That's why personally, I'm humble. But musically, I'm arrogant!"
As the release date for The Rapture approaches, 2P is celebrating on many levels, and the prospect of reaching new fans is exciting to him.
"Not that I've been gone long, but this is my come back," explains 2P. "I have a few feature names on the mixtape – all original tracks from front to back. I feel like this is definitely going to set me apart from the other artists that I have been compared to in the past. I'm here to stay, so get used to me!"
For interviews and press information, contact dove@tygereye.net