Roy Hamilton III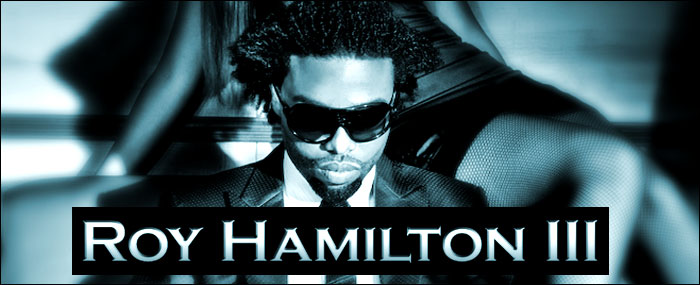 Some of the most dynamic change in the world is sparked by the simplest of ideas. At just 29-years-old, Roy "Royalty" Hamilton III is already an industry vet with over a decade of musical hits, power moves and executive decisions under his belt. As a producer, songwriter, composer, performer, director and consummate business man, Hamilton is ready to unleash his own brand of empowerment through music.
Recently, Roy's production hit the Billboard Top 10 again with R.Kelly's single "Number One" featuring Keri Hilson, and the track appears on Kelly's new album Untitled. He's also taken on the first single for newcomer InviZible Man, and his single "The Invizible Man" is already garnering national radio play. Four versions of the song, all produced by Roy Hamilton III, will be presented on an EP in 2010.
In February 2010, Roy released his own "micro-mixtape" entitled The International, hosted by DJ Whoo Kid and DJ Do-It-All. The project is accompanied by exclusive videos for each of the four tracks, followed two more micro-mixtapes counting down to his official album release in 2011.
Roy will also unveil his Royality TV series online in Spring of 2010, showcasing in-studio surprise guests and special behind-the-scenes features from his incredible journey to the album debut. All of this is leading up to the release of his debut album The Last Monarch/The MA-Day on May 3, 2011.
From childhood, New York-born, New Jersey-raised Roy Hamilton III possessed inspiration and innate ambition that grew into a multitude of ideas for the future. His vision evolved into an obsession to make a difference with the next generation of music hopefuls in his region, and ultimately the world at large. Great change may seem like a lofty goal in the aftermath of the tattered music industry and the all-around lack of musical appreciation in today's society, however Roy is confident in his ability to revitalize the passion.
"I feel like my life itself gave me an advantage since birth," explains Roy. "My grandfather, Roy Hamilton, was a renowned star in his day. Growing up, my parents kept me around music, and my father's Godfather is BB King. When I turned 16, I started performing locally in the Atlantic City area, then I met R.Kelly at 17. So it's just like my steps have been in order, kind of a divine order, and I can't even say how."
The character of a true leader can only be improved by mentorship, and Roy's journey has been rich with amazing teachers. The versatile young artist and entrepreneur credits R.Kelly and former Capitol Records CEO Andy Slater as major influences on his career.
"R.Kelly has been in my life over the last decade or so, as not only an inspiration but as a teacher," says Roy. "He hasn't been shy or stingy about what he knows and sharing it with me. Having access to a genius like him really helped me out a lot along the way. I worked under Andy Slater at Capitol Records from 2004-2007, he was the president and CEO at the time. He developed and managed Fiona Apple and Macy Gray, and he was the manager of the Beastie Boys for a long time. He brought me in because he saw my knack for finding talent and being able to cultivate it and bring it to a level of excellence."
Prior to his days in the office, Roy's production included work on albums for the likes of N'Sync, Britney Spears, Nas, Michael Jackson, Samantha Mumba and Keith Sweat. He produced the #1 hits "Stutter" for Joe (Pop) and "Liar" for Profyle (R&B), as well as Top 20 hits "Friend of Mine (Rmx)" for Kelly Price and "Wanna Do You Right" for K-Ci and JoJo.  During his tenure at Capitol Records, Roy helped to develop projects for LeToya Luckett, Chingy, MIMS, J. Holiday and more. Additionally, he served as the Musical Director on two tours for The Cheetah Girls ('06-'07).
A key element that keeps Roy Hamilton III fresh on the corporate side of music is an open attitude about technology. "I'm very in line with what's going on in terms of the transition from physical to digital music distribution," he asserts. "I have something I'm working on right now which I think will be one of the main driving forces as far as how music is delivered. I listen to all kinds of music myself, and am invested in providing new channels of distribution for fans. I'm a man of the people, so I've been listening to what my non-industry friends have to say, and I've been listening to those in the music business complain about how they're losing their jobs. I think I'm going to help be the balance."
On the creative side of things, Roy is always testing the limits with an admittedly strange process in his songwriting. "I just try to come with something that everybody can relate to, whether I'm looking at the ocean or one of my friends says something really funny and I make it into a hook. I'll pull out my iPhone and start singing or playing the melody right on my phone and just trap it there. When I'm in the studio I'll go through a whole bunch of ideas and find that moment from my phone… then we produce records. I start with this little seed of a tiny idea, wherever that inspiration hits me I try to trap it and record it, because I know that those moments are where the magic is made."
Roy's upcoming production for 2010 includes tracks for Pleasure P, Kristinia DeBarge and Pop princess JoJo. As he embarks upon his solo career, Roy Hamilton III feels that his mission is clear, and he is prepared for the long haul. Positive, opinionated and passionate, he does not see obstacles, only opportunities.
"As a part of my mission statement, I believe it's time for things to be illuminated. I think music is in a dark place, with people compromising anything for a dollar. I've always been blessed enough not to have to do that, and it's been tough for me to figure out how to stay relevant and still keep my morals intact. I don't believe in doing stuff just to be doing it, so people should know what they're going to be hearing from me. I don't curse in my music, and future productions will all be consistent with this same mission statement."
For interviews and press information, contact dove@tygereye.net
PRODUCTION DISCOGRAPHY
Singles
1998 – Kelly Price – "Friend of Mine (Rmx)" ft. R.Kelly & Ron Isley (#1 R&B, #12 Pop)
2001 – Joe – "Stutter" (#1 Pop, #1 R&B, #7 UK singles)
2001 – K-Ci & JoJo – "Wanna Do You Right" (#60 R&B)
2002 – Michael Jackson – "Shout" – b-side of "Cry" int'l release
2008 – Cene – "My Bumper" (& remix ft. Shawty Lo)
2008 – George Nozuka – "Last Time" (Top 10 Canada)
2009 – Day 26 – "Dizzy" (leaked)
2009 – JoJo – "Take Me (Around the World)" (leaked)
2009 – Bayje – "Wonderland" (leaked)
2009 – R.Kelly – "Number One" ft. Keri Hilson
2009 – InviZible Man "The Invizible Man"
Contributions to Full Lengths and Compilations
1998 – Kelly Price – "Friend of Mine (Rmx)" ft. R.Kelly & Ron Isley – Soul of a Woman (Island – 2x platinum)
1998 – R.Kelly – "We Ride" ft. Jay-Z, Cam'ron, Noreaga & Vegas Cats (rap before Jay-Z) – R. (Jive – diamond)
1999 – Nas – "Big Girl Now" "New World" – Nastradamus (Columbia – platinum)
2000 – Samantha Mumba – "The Boy" (UK) "The Boy" ft. Will.I.Am (US) Gotta Tell You (Polydor/Interscope – 4x platinum)
2000 – K-Ci & JoJo – "Wanna Do You Right" – X (MCA)
2001 – N'Sync – "Falling" (int'l rls. bonus track ) – Celebrity (Jive – 8x platinum)
2002 – Michael Jackson – "Shout" – Invincible int'l rls. Co-prod. w/ Teddy Riley (Epic – diamond)
2002 – Joe – "Stutter" – My Name Is Joe (Jive – 3x platinum)
2002 – Keith Sweat – "Gots to Have It" "Anything Goes" "Ladies Night" "100% All Man" "The Right Stuff" "What Is It" – Rebirth (Elektra)
2003 – Joe – "Sweeter Than Sugar" "And Then" "Street Dreams" – And Then (Jive – gold)
2003 – Britney Spears – "I've Got That (Boom Boom)" – In The Zone (Jive – diamond)
2004 – Houston – "Twizala" – It's Already Written (Capitol – gold)
2004 – Guerilla Black – "Sunrise" – Guerilla City (Virgin)
2004 – Eamon – "Girl Act Right" "Rather Be With You" – I Don't Want You Back (Jive)
2008 – George Nozuka – "Last Time" – Believe (HC Entertainment)
2009 – Keri Hilson – "Do It" (iTunes bonus track) – In A Perfect World (Mosley/Zone-4/Interscope – gold)
2009 – Kristinia DeBarge "It's Gotta Be Love" co-prod. w/ Babyface – Exposed (Sodapop/Island)
2009 – R.Kelly "Number One" ft. Keri Hilson – Untitled (Jive)
Special Projects – Television and Film
1998 – Lady "No Way In, No Way Out" (co-prod. & background vocals) – Belly Movie Soundtrack
1999 – Destiny's Child "Stimulate Me" ft. Mocha (co-prod.), "Every Which Way" Talent ft. Vegas Cats (vocals) – Life Movie Soundtrack
2009/2010 Unreleased Projects
2010 – Pleasure P "Baby It's Over" from Suppertime (Atlantic)
2010 – Bayje "Wonderland" from upcoming album (Atlantic)
2010 – JoJo "Take Me (Around the World)" from All I Want Is Everything (Blackground/Interscope)
"Sexy Chick" (HD Video) from The International Micro-Mixtape

"Have Sum Fun" ft. Selina Carreras of Axixs (HD Video) from The International Micro-Mixtape

"Fast Car" (HD Video) from The International Micro-Mixtape
The Axixs ft. Roy Hamilton III "Hipstar" (HD Video)