Rain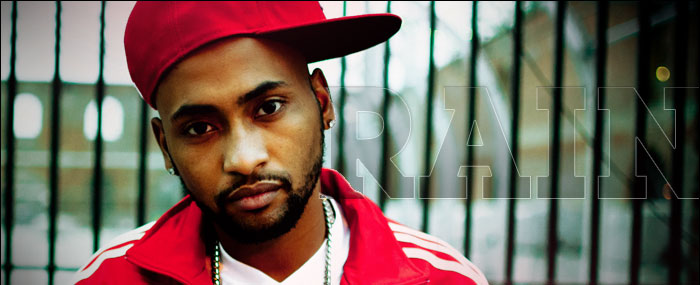 Website
Audio
Press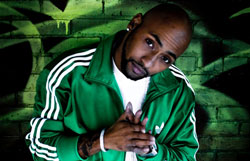 Rain is a necessity. We may like it, we may not, but at the end of the day it is required to encourage growth, it provides nourishment – and often after rain comes sun. Randy "Rain" Watford is the personification of a celebrity in the making, not just because he provides the thirsty Hip Hop fan with something to satiate their thirst, but because at just 22-years-young Rain displays true understanding of two key elements a person needs to possess to get a head start in the 'game': focus and drive.
In April 2011, Rain released The Magic Hour 2, a street album that has thus far matched the critical success of The Magic Hour in 2010. With several videos under his belt, Rain shows no signs of slowing down as he preps a full-length album and more mixtapes just for the fans. Since his incredible first project in 2006, Rain has released over 100 freestyles and songs, all featured on over 100 nationally-released mixtapes.
Born and raised in the city of Fayetteville, North Carolina, Rain has stories to tell. After being exposed to icons such as Kool G Rap and Rakim, Rain took his views and ideas to paper at the age of 13, determined to be a significant person for the youth of the present and the struggles and obstacles they face.
Rain wants to be recognized for going against the grain, as opposed to jumping on the same bus as the rest in their fight to secure a mainstream existence, He thrives on creativity and flourishes on originality, but his mind is focused on making memorable songs as opposed to being considered nothing more than a 'walking notebook.'
Over the years, Rain has created a name for himself through numerous mixtape appearances, freestyle battles, and Hip Hop shows throughout the East Coast. He wants to send messages in his lyrics, but as he quickly states, "I am not starting a revolution, but I am going to try and clear things up."
In early 2006, Rain released his first major mixtape Only In America, which created a huge buzz in the Carolinas all the way up the coast.  Instantly, Rain became the talk of the industry and the streets to be the next unsigned rapper to make an impact in the music industry.
By the end of 2006, every major and independent record company imaginable had called to arrange and make offers to add Rain to their roster. Rain noticed the climate of the industry and noticed the deals that the labels were giving new artists, so he made one of the biggest business decisions of his life and started his own company First in Flight Entertainment.
Rain's never-ending street buzz and consistent grind landed him a feature on SMACK DVD Vol. 13, the #1 street DVD in the country, as well appearances in the XXL Show & Prove section, Ozone, MTV's TRL, BET and more. Rain's most personal feature to date came when he received The Source Magazine's most honorable feature of "Unsigned Hype" in their February 2008 issue. This recognition landed him in raps elite category of unsigned of unsigned MC's to receive this accolade such as Eminem, Notorious B.I.G., 50 Cent and Big Pun.
In 2011, Rain is not only an artist, he's also a CEO. With the mentality and drive of a boss, Rain strives for excellence through his music and his life. With this perception and maturity, Rain plans on bringing a new direction to music through thought-provoking, relatable lyrics backed up by beats from some today's hottest producers, such as Rocwilder, Nottz, Street Fabulous, The Heatmakerz and more. He is a prime example of an emcee taking control of any track he is given.
Both figuratively and literally, there really is no escaping Rain!
For interviews and press information, contact dove@tygereye.net