In Case of Emergency (I.C.E.)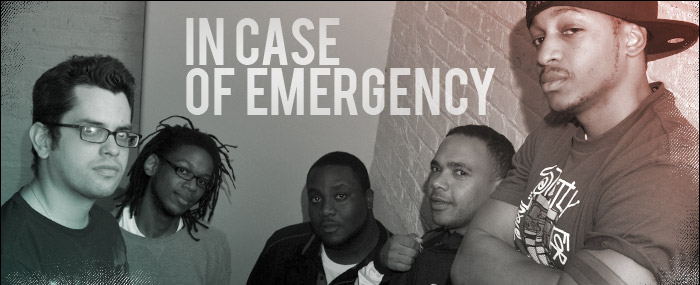 Website
Audio
Press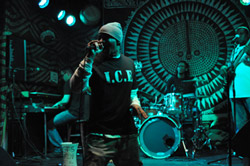 Curtis Mayfield is to Soul music what IN CASE OF EMERGENCY is to Hip Hop today. Social consciousness that cuts to the core, mixed with intoxicating tracks for the ladies that paint pictures in real time. IN CASE OF EMERGENCY (I.C.E.) fills a void that can only be captured by 'digging in the crates' for the music you love, transcending genre with energy and passion.
On September 20, 2011, the five-member band will digitally release their self-produced EP We are I.C.E.. The men of I.C.E. hope that audiences they play for are transformed with the feeling that Hip Hop is alive and stronger than ever, with each fan fulfilled by the explosive performance energy.
Fronted by lyricist Props, the instrumentation is handled by Malik on percussion, Hiro on guitar, Verne on bass, and Rob on keys. Japan-born Hiro is the newest member of the band, joining the New York music vets for the perfect accent on the I.C.E. sound.
There is no denying that In Case of Emergency's music demands your attention with speakeasy hooks and provocative melodies. I.C.E. sets the stage for a sound that can only be surmised as an experience, combining elements of classic Hip Hop from the past, present and future. It's no wonder that their energy has been compared to critically acclaimed band The Roots.
Through their performances in the Northeast and Mid-Atlantic regions, I.C.E. has been revered by world-renowned clubs, allowing them to hold showcases for consecutive months. They attract new fans and earn respect from their peers with every performance.
With We are I.C.E. the band intends on inspiring and capturing the hearts and minds of people across the country as a force to be reckoned with.
"We want fans to know that they can have it all musically; from the lyrics and flow to the sound and vibe," explains Props. "This album showcases our diverse range, pleasing not only the truest Hip Hop heads, but also R&B and Rock fans. We are a one-stop shop for your ears. Expect what you want while experiencing something you didn't know you were missing…until now!"
For interviews and press information, contact dove@tygereye.net