Hype Holla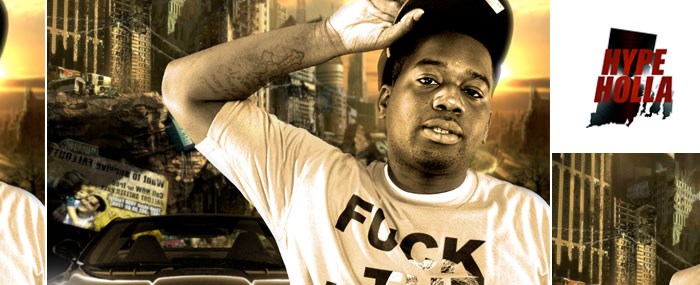 As Hip Hop continues to evolve and the industry's expectation of a top seller shifts, one tiny state struggles to make it aboard the success ladder. Rhode Island native Hype Holla is on the grind with his new mixtape Mac & Me 2, which features guest appearances from Nipsey Hussle, Cory Gunz and more!
In September, 2009, Hype Holla released his DJ Whoo Kid-hosted mixtape HYPEothetically Speaking, with the singles "Get It Started," the street favorite "Hands Up" featuring Freeway. He followed in December with Mac & Me, a project that involved Hype Holla and his computer (Mac, of course).
Hype has been working tirelessly with his "Believe Music" campaign, giving back to his community through music. The Providence-born MC promises that during this year of change he will bring Rhode Island to the forefront of the Hip Hop game.
With his down-to-earth personality, it's easy to pick up that Hype is a people-person born for the stage. Open to any discussion about music and life, Hype Holla professes his dream to be the face of Hip Hop that represents his city, while still embracing music worldwide. "My 'Believe' campaign will bring something fresh to music fans, simply because of the positive vibe I bring to it," Hype smiles. "Music is my life, so anybody who creates music is part of my family. There will be no hate or jealousy toward anyone – just peace and love. I look forward to working with anybody willing to work with me."
Hype Holla is a keen go-getter who knows how to make lemonade out of lemons. He lived the struggle that many inner-city children face in America – growing up in a community where if you miss the chance to get out of the hood, you would most likely end up staying there. Hype's family ties were grounded by his mother, who led a step team that he played percussion for as teen. At just 15-years-old, Hype picked up a full time job and began to grasp the concept of responsibility. Although he completed high school, the temptation to be a product of his environment crossed him.
For a while, Hype's choice to affiliate himself with the streets and ambitions of living the fast life interfered with his academic priorities. Through all the struggles that plagued his life, Hype managed to make a change for the best.
"My upbringing makes me strive to over-achieve and put myself in a better position," he explains. "Don't get me wrong, I didn't grow up bad. I lived in a decent part of Providence with my mom in our beautiful home, but I always knew there was more to life. It's unfortunate that I have more negative memories than positive from my youth, so it reflects in my songwriting. If I can turn those negatives to positives through my music, I feel I've accomplished my goal in life."
Highly influenced by an array of artists like DMX, Jay-Z, Lil Wayne and Usher, Hype polished his distinct voice on tracks that address a variety of issues and experiences, gracing all types of production. "I like to challenge myself mentally, so innovation is the key for me," he says. "After I record the music, it becomes therapeutic when I listen back. It's more relaxing to me than anything else in the world."
While artists often find it easier to bring to light the hardships that they've faced, Hype's movement "Believe Music" focuses on overcoming hardships by genuinely connecting with fans. As a fan of multiple genres of music, Hype hopes to give Hip Hop listeners a strong perception of what Rhode Island has to offer the world.
"They've got me to represent for our state, and that's a good thing because I'm going to hold it down for us even beyond the music," Hype expresses. "I only want to see Rhode Island in the lime light. We have the passion that is lacking in so much music at the moment, and once it's back, I feel it will be better for Hip Hop as a whole."
Indeed, as he plots late nights in the studio, Hype assures his family, friends, community, and listeners that he is on an upward journey and will take everybody for the ride. Always present in his mind are the experiences he and his childhood friends faced – crime, death, jail time and living up to the expectations of the streets. After reaching the masses Hype, aspires to uplift and give back to the community that helped raise him.
"My music is powerful, realistic and believable," Hype asserts. "I want to be known for my lyrical content more than anything. With my creativity and artistry I could and will make a difference. I do this for the fans, and hopefully together we can make some big changes in and outside of Hip Hop. I believe that my music will help people get through their day, and will allow them to have fun while they listen."
For interviews and press information, contact dove@tygereye.net
"Forever Young" freestyle video

"Welcome To Rhode Island" video