Cashus C.R.E.A.M.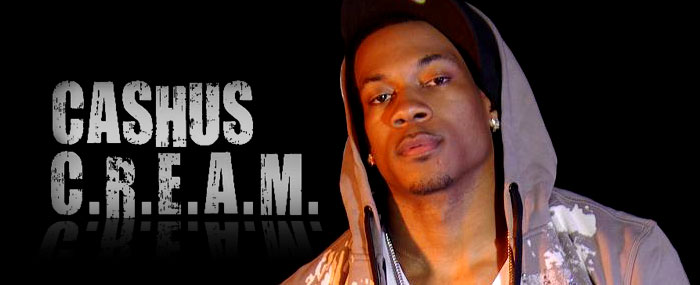 Website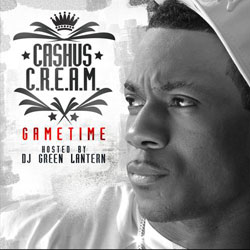 GameTime tracklist
Hosted by DJ Green Lantern
GameTime prod. by Noize Trip
Messy WackSon (skit)
See Me prod. by P King
Oops…Ya Head prod. by Ron Browz
So Sexy prod. by The Weirdos
The Paper prod. by P King
Real Talk (freestyle) prod by Detroit Red
Hustler's Anthem f/ Range
Bedroom f/ Erika Deluna prod. by Shea Taylor
Let Her Do It prod. by Battery 5
Hold It Down
Hollywood (freestyle)
I Appreciate prod. by Jay Wes
So Tired
Hero (freestyle)
Press: Interviews, Articles, & Reviews
Most people's lives are built solely around the choices they make, but there are a select few who are destined for greatness. At 25, Cashus C.R.E.A.M. is one of them. The Connecticut-born, Queens, New York-based songwriter/lyricist has been creating hits for others thus far, and is now ready to unveil his own music and impeccable skills on the mic. His new mixtape project GameTime, hosted by the world-famous DJ Green Lantern, boasts an array of top producers on original tracks, including Ron Browz, Shea Taylor and P King.
Cashus was only 14-years-old when his cousin, a neighborhood "big tymer," put him up against a group of older teens practicing their rhymes for a school talent show. He didn't know anything about delivery or bars or song structure. He just knew how to tell a story. The words that went from pen to paper blew that whole room away. That was when he knew for certain that he would be married to the mic.
"I spit my little rap and my verse was better than all of theirs," he says, remembering it like it was yesterday. "I put all of my feelings and emotions into it. It showed me the effect my words could have on the people around me."
Growing up on Hartford, Connecticut's north end, Cashus was always a creative writer, channeling the sights and sounds of his blocks into poems and short stories that got him recognition from everyone from his crew to his professors during his three years on a football scholarship at Southern Connecticut State University. But even through the glory of the gridiron and the privilege of working at a Fortune 100 company, it was only within the music that he truly felt at home.
That home was a house he built the hard way, coming to Queens with nothing but a book of rhymes and the promise of a couch to sleep on. While the streets of Hartford were nothing nice, the musical world within the five boroughs was filled with tricksters, amateurs and more competition than he'd ever faced before. That still wasn't enough to scare off the kid who had always been young and smaller, the one who always had to get over humps that his peers did not. He kept swinging until he hit the right producers, the right management and most importantly, the right sound.
As he built is vision for his own music, Cashus and his writing partner, collectively known as The HitterZz, were writing songs and hooks for other people. In Spring 2008, the duo signed a deal with Primary Wave Music Publishing and have penned songs for various artists including Jamie Foxx, Prima J, Leona Lewis, The D.E.Y., David Archuleta and Jennifer Lopez.
Heavily-inspired by Run DMC, Nas and early LL Cool J, GameTime, Cashus C.R.E.A.M's debut mixtape, is a showcase of the many faces of a music lover's artist. Hosted by the infamous DJ Green Lantern, GameTime features beats by Ron Browz, P King, Shea Taylor, DJ Drama affiliate Detroit Red, Noize Trip (who produced the title track), The Weirdos and Battery 5. Whether he's rhyming about the complexities of relationships or the pull of the streets his hypnotic flow can go down as smooth as honey or as sharp as a straight razor. He calls himself "Mr. Fix It" because he always knows the perfect tool for the musical job at hand.
In addition to GameTime, Cashus C.R.E.A.M. has also released A Day in the Life, a promotional calendar getting circulated around New York with the ladies as the target and features a special "pink" edition mixtape just for them as well as recently launched CashusCream.com.
"From day one I've always been a business first kind of dude. I do what I have to do to make myself relevant in today's market. If it's ringtones then I'll make them buy ringtones. If it's doing a reality show, the same thing. I do what it takes to make sure that they're looking at me and not what everybody else is doing."
Fully-armed and always ready, Cashus C.R.E.A.M. is a force ready to roll until it lands in the endzone of multi-platinum status. Anything that stands in his way is destined to end up on its back.
For interviews and press information, contact dove@tygereye.net