Bobby Brackins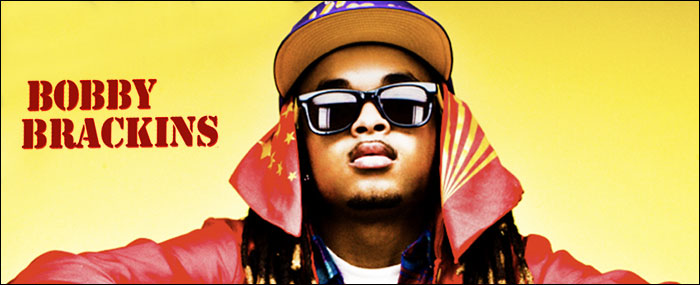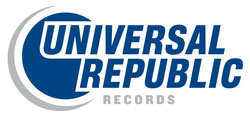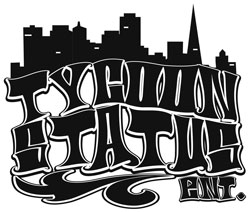 Website
Audio
Press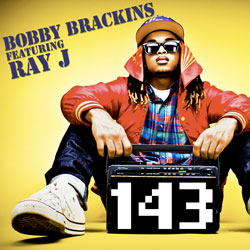 Oakland-born Bobby Brackins proudly upholds the traditions of Bay Area Hip Hop, established by the likes of Too $hort and E-40. The young multi-talent inherited the style, substance and sense of humor that NorCal rap has always been known for, mixed with his own distinct, youthful flare. Brackins also possesses a deep understanding of pop music, embracing the work of legends like Michael Jackson and studying it.
Bobby Brackins first single "143" featuring Ray J burns with the kind of energy that ignites dance floors everywhere. The track blends a sexy synth bounce with Brackins' fiery flow, creating an intoxicatingly infectious tune. With major attention spreading throughout Los Angeles, Las Vegas, San Francisco, Salt Lake City, Denver, Fresno, Tucson, Honolulu and other major U.S. cities, and over 28k radio spins to date, "143" serves as a launching pad signaling Brackins' arrival on the scene!
Answering the call to give his fans more nationwide, Brackins now has a remix for "143" which adds verses from Texas natives Paul Wall and Dorrough, Georgia's Roscoe Dash and Def Jam's latest California signee YG to Ray J's smooth chorus.  With the follow-up single "I'm Ready" on deck, a full-length debut for Universal Republic/Tycoon Status on the docket for later this year and a full calendar of shows, Brackins is bringing good times everywhere he goes.
"143" is a text message code for "I Love You," but it means so much more to the now Los Angeles-based MC.
"The song's basically about living life, going out, being with your friends and flirting with girls—it's just all about fun," Brackins declares. "We've got one life to live, and I tell myself to make the most of every moment. You can party to this song, you can pre-game to it or you can vibe to it. It's a vibrant colorful track about having a good time."
After becoming a sensation in the Bay Area, "143" caught the attention of Universal Republic in April 2010, and Brackins was immediately signed. Since then, "143" has quickly shot up Rhythmic, Urban and Top 40 charts, instantly becoming a radio sensation. The video for the original track premiered on BET tastemaker show 106 & Park, and is currently in constant rotation on MTV Jams and BET.
Paired with urban superstar Ray J, Brackins manages to shine immensely in his own right on "143." Brackins initially wrote and performed the song solo, but Ray J heard it and just had to be a part of it. On the single, Ray J accents the Brackins-penned hook with his signature style.
Brackins adds, "Ray J blessed the song with his whole swagger and persona. I'm a fan of Ray J's music and character. We're both giving our all on '143,' and the chemistry just works out perfectly."
Bobby's thorough understanding of the pop genre has made "143" a veritable sensation. Not to mention, it has invigorated a large audience of young females. When the young performer plays shows in NorCal, girls hunt him down for pictures and autographs. He receives hundreds of requests weekly via Twitter and Facebook for personalized "143" signs, and is the scene's newest heartthrob!
In addition to the undying allegiance of the girls his music has wooed, the Bay Area has also been good to Brackins. At only 17-years-old, he started the successful group Go Dav alongside "143" producer Nic Nac. They became a local favorite, with their single "Ride or Die Chick" receiving heavy spins on numerous NorCal radio stations, introducing the world to the artist and producer.
Brackins then signed a deal with Tycoon Status Entertainment and dropped his first solo single "Skinny Jeans" in December 2009, and the area radio stations began spinning it in regular rotation. With "143" now scorching the charts, the 20-year-old Nic Nac is working with Brackins on the entire album.
Brackins is appreciative of his Bay Area roots, and feels fortunate to have such a wide array of influences in his songwriting. "I definitely listen to Bay Area legends like Too $hort and E-40 a lot, but I also love Marvin Gaye, Bob Marley and Sam Cooke. My music is eclectic because I have such a diverse taste. I want to leave a legacy like my favorite artists did. Ever since I was in elementary school, I've had a journal that I'd write songs in. I always loved to write, and I'd rap at school with my friends. I never knew it was going to be my career, but I always had a passion for it."
He still keeps a journal, and it's been the starting point for banging new tracks such as "I'm Ready," "XOXO" and "All I Need Is You." With an anything-goes mentality, the music segues from horns to orchestral keys to acoustic guitars as Brackins blazes through clever rhymes, writing every hook and verse himself. The songs come together for one unforgettable ride on his debut.
"I want the album to be like an auditory movie," says Brackins. "It's about making the most of your time on earth and enjoying everything. The music has a unique free spirit."
Ultimately, life is all about music for Brackins—just like it was when he first started penning songs in that notebook. "I'm in the studio every day because I never want to stop creating original music," he continues. "I don't want to fall into any type of mode either; I just want to be me. I think people will respect that because the music is different. Everybody that comes to our shows has fun. We like to rock out, and I make sure everyone takes a memory home."
For interviews and press information, contact dove@tygereye.net
Video