Big Kuntry King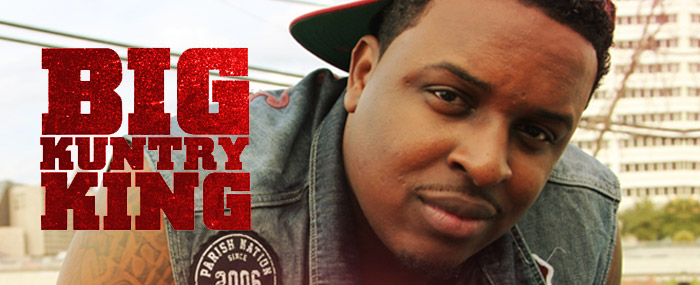 Big Kuntry King has been an integral part of Atlanta's nationally celebrated Trap Music scene for over a decade and a half. Thanks to his alliance with T.I. – who Kuntry befriended in 1996 at the start of the legendary Southern-fried spitter's career – Big Kuntry has managed to rap for hordes of Hip Hop fans around the world. He's seen a lot, heard a lot, worked a lot – and now it's all about to pay off.
With the long-awaited release of Big Kuntry King's second solo album, Dope & Champagne in Winter 2012 via Grand Hustle, it's finally time to celebrate. The next King has arrived.
Born in Charleston, South Carolina, Big Kuntry was raised in a home with his mother, sister, and extended family. When he reached the fifth grade, Kuntry moved to Atlanta with his mother, who worked two jobs while pursuing a college degree. Kuntry gravitated toward street life; it was in the family genes. His father served a seven-year stint in a federal prison.
A fateful budding friendship with T.I. changed everything. Tip was already known around Atlanta as a skilled lyricist, and together they sold mixtapes out of the trunk of their car.
"The raps, that was our dope," Kuntry says. "We was rapping because we knew we could make us enough money to buy something and get out. And it made us look good in our neighborhood and every other neighborhood in the A."
Big Kuntry King's Rap career grew its legs by 2005, when his five-man group P$C signed with T.I.'s Grand Hustle to release their project 25 To Life. While the collective achieved some entry-level buzz, it was clear that BKK was the standout star. Prior to that though, Big Kuntry scored a spot on T.I.'s 2001 album I'm Serious, on the track "Heavy Chevys."
In between appearing on subsequent T.I. albums like Trap Muzik and Urban Legend, Big Kuntry recorded and released some songs on his own, including "Still Country" and the dope-fueled "Throwback." As a protégé to Tip, he noticed some elements of his mentor's sound that he could embody as well.
"T.I. used to say some things back then that was amazing and I was like man, I could do that," remembers Big Kuntry. "After a while it started to become real. If it wasn't for rapping, a lot of us would be locked up or dead right now."
Despite having a knack for delivering over stuttering Southern bounce while appealing to a mainstream audience, it wasn't his star that T.I. and Grand Hustle focused on making the brightest.
"They had just signed Young Dro, and Tip made this song 'Shoulder Lean' for him," explains Kuntry. "He threw some verses on it and it was a smash song. That's when I said man, I have to step this up."
While T.I. and the rest of the camp were overseas playing shows in Japan, Kuntry went into the studio by himself and started recording solo material. He dropped the torch single "Yeah I'm On It" – featuring Kuntry's drawn out signature adlib, "You know who this is man, Big Kuntry King!" – pressed the song and had it circulating in the clubs.
By the time Tip returned from Japan, he had a nice surprise from his label artist. Kuntry's drive impressed Atlantic Records to the point where they signed him as a solo artist. The result was 2008's My Turn To Eat, which featured T.I. on its flagship single "That's Right" and Trey Songz on "Da Baddest." While the release didn't garner the attention fans didn't feel it deserved, it didn't stop Big Kuntry. He popped up on some of his labelmates' tracks, while still building steam for his follow-up debut.
In early 2012, he released the 100% (KANE) mixtape, featuring T.I. on the Zaytoven-produced "M.O.B." That fanned the flames for what will ultimately become King's breakout album.
While Hip Hop is currently knee-deep in the Trap with recent acts, Dope & Champagne strikes a necessary balance.
"It's a fresh new street sound about the club life, street life, and the baddest women from my area to your area," BKK explains. "My sound is very laid back and original over hard 808 beats. I call it 'Southern Swag with street lingo.' Tracks like "Peach Crush" smooth out a psychotropic bounce, while "Bounce Dat" has what King calls "a strip club feel." Other tracks like "True Religion" speak directly to the streets, while "Break" speak directly to the ladies. It's a party, and everyone is welcome.
In addition, Big Kuntry King started his own label, Bread Box Muzic, where he plans to put other artists on while releasing his own music. While the past imprisonment of his boss T.I. was tough, King explains it opened his eyes to the game.
"Working with Grand Hustle taught me how to be more independent, so when T.I. got locked up, it opened my eyes to realize that I needed my own thing. If T.I. is the 'head' and I'm the 'body,' you kill the head – you kill the body! So, I can't let my 'body' of work go unpublished, I had to become the 'head' to make sure of that.
If there's one thing Big Kuntry King wants you to know about him, it's this: "I'm working ass off to become one of the greats" He's weathered the storm and is ready to reap the benefits of next level success with Dope & Champagne. Raise your glasses to that!
For interviews and press information, contact dove@tygereye.net