Zach89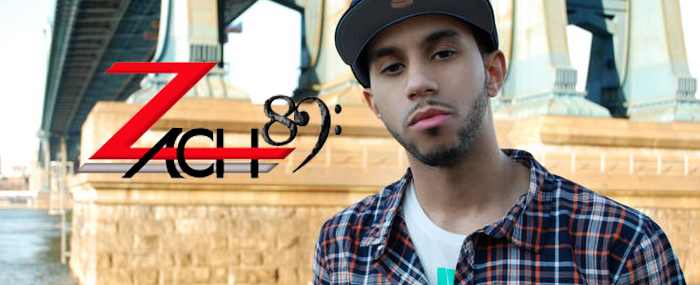 From Donald Trump, Russell Simmons and Christopher Walken to LL Cool J, Kool G Rap and Nas, the borough of Queens, New York is the birthplace of many of our era's greatest pop culture icons. In recent years, a new generation of budding pop stars like Nicki Minaj and Lloyd Banks are making noise from Queens, and the growth of young talent is still progressing.
Enter Zach Elyshevitz , also known as Zach89, also known as 1/3 of the group Team Blackout. A prolific percussionist, songwriter and lyricist, the 22-year-old is pursuing a solo career as his fellow Team Blackout members JoJo Simmons and Reggie Poulard do the same. The group's popularity grew on MTV's Run's House (2005-2009), and the series caught a second wind in Europe in late 2010.
In November 2011, Zach89 released his debut mixtape project RapZhody, which features a variety of '90s inspired freestyles accented by live percussion by the young talent. The project debuted on HipHopDX.com, and remains one of the Top 3 most popular mixtapes on the site in the past 12 months. Zach is currently working on his second mixtape, The Z Factor, which will be released in Summer 2012.
Zach, a recent graduate of New York's City College with emphasis on Jazz performance, finds creative balance in showcasing multiple talents on his solo project.
"Being a musician kind of sets me apart from what you hear in Hip Hop these days, because there aren't that many musicians in the game right now," explains Zach. " I blend my jazz training into the music that I do, and I think my fans will relate to RapZhody, because this is someone in their age group, rapping to these classic instrumentals. Also, the interludes on the mixtape contain jazz music, which brings everything full circle. I'm looking to bridge the gap between the new and old school."
Major influences for Zach include Nas, Jay-Z, Kanye West and The Roots, the latter of which he credits as the group that fueled his desire to pursue music as a career. The young rapper takes his percussion training seriously, and cites a range of influences in live music. "My favorite percussionist is ?uestlove Hip-Hop wise, and I'm feeling Travis Barker now that he's been doing his own thing. I also listen to a lot of jazz drummers like Elvin Jones and Lewis Nash. "
Since his professional recording debut with Team Blackout in 2008, Zach89 explains that he picked up a lot of behind-the-scenes knowledge in a short time. "I didn't realize how much work goes into actually promoting an artist and getting them seen. We developed into real artists. We rap well, but we learned how to put songs together."
Fans around the nation gravitated to Team Blackout's youthful energy – and it didn't hurt that JoJo Simmons' famous father, Rev. Run of Run DMC – was there to mentor the group both on and off camera. At this point, Team Blackout is recording together again, and each member is pursuing solo endeavors as well. Reggie of Team Blackout hosted the RapZhody project, and Zach is excited to keep the energy flowing.
"You don't see many artists drop a project with another artist hosting, and better yet an artist who's in the same group as them," Zach89 says of his approach. "I wanted to capture the same vibe 50 Cent did when he use to drop mixtapes and Tony Yayo would be screaming all over the tracks. They didn't call Yayo the 'host', but he essentially was hosting the mixtapes. It brings a sense of unity having Reggie host RapZhody."
As a native of Queens, New York, Zach89 takes the legacy of his city and his generation very seriously.
"I feel like this latest generation is bringing the essence of Hip Hop back," he asserts. "The artists are more lyrical again, and I feel like I'm contributing to that part of the game as well. I'm an observer, so I take a lot of my life's experiences and what  I see other people going through, I try to put it in my music and my writing and just give people 'me'. I want to make the music that totally represents me, so when people listen, they'll really get a good grasp on who I am finally."
For interviews and press information, contact dove@tygereye.net