U-Krime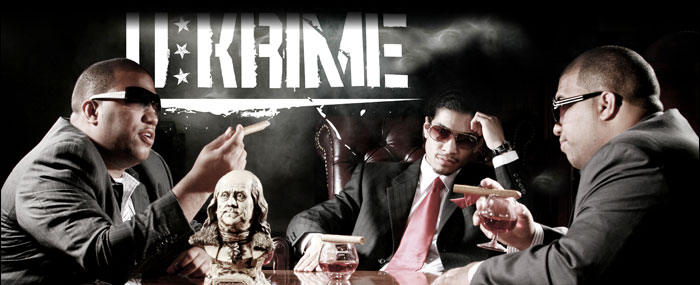 In its rawest essence, Hip Hop was born as a tool for self expression. It was used as a way to document and connect the lives of people that were otherwise ignored by the mainstream. There was a time where being an emcee meant having a story to share and being a skillful manipulator of words. The members of U-KRIME remember that time.
Hailing from the Bushwick section of Brooklyn the trio – consisting of twin brothers Strai-Jacket and 45 and longtime family friend RealmReality – have been on a mission to preserve the authenticity that foundational Hip Hop is known for. Their new venture is a collection of songs entitled The New York Krimes Vol 3: Street Cinema, hosted by DJ Whoo Kid. Their first single, the Black Milk-produced street anthem "Brooklyn," pays homage to their true-school approach to music and life in general.
"One of the great things about this group is you have three different perspectives on things," explains 45. "Strai-Jacket is more of the lyricist of the group. Realm is known for his flow. And I'm more like the edgy person in the street."
To put it simply, each member of the group is the ying to the other's yang, creating a lyrical balance. Their sound can be described as dirty, grimy, raw beats meeting melodic, soulful music – something that's outside the box. Imagine if the Lox were to do an album with Mos Def. It would be those two worlds combined.
"I think that's why the average person can connect to it, because one way or another everyone's story gets touched on. Whether you on the corner or you work a day job, we touch on it all," says 45.
Rhyming since they were teenagers, in 2002 the twins decided to take it up a notch and started working with a production company. They put out a single featuring Tony Touch and Tragedy Khadafi called "American Me," which was produced by Alchemist, in conjunction with Fat Beats. They built a strong buzz, and that track sold over 5000 copies through word of mouth alone.
"American Me" was well received overseas and in the New York underground circuit. Soon after the release of that single, they released their first mixtape The New York Krimes Mixtape Vol. 1. U-KRIME continued to gain notoriety with a slew of mixtape releases from 2004-2007, including The New York Krimes Mixtape Vol.2; Character Assassination; Character Assassination Part 2 hosted by Clinton Sparks & Tony Touch; and Integrity and The Illegal Tender Mixtape" (2007).
This year promises to be even bigger for U-KRIME with the upcoming release of their new street album New York Krimes Volume3: Street Cinema Edition hosted by Whoo Kid. Features include Prodigy from Mobb Deep, Joell Ortiz and Sam Scarfo, while production from the likes of Black Milk, Freebass, Chad Wes and Full Blast add to the intensity of U-KRIME's musical syngergy. Additionally, they will be featured on the Wu-Tang Latino Compilation album La Familia due out in April.
As they stay consistent with all of their independent accomplishments, U-KRIME is focused on giving Hip Hop fans the assertive edge that makes the music memorable. "We put forth the bite and that hunger in the music that makes people want to hear it," explains Realm. "That real, raw, street Hip Hop that the East Coast is known for. There are a lot of people in music right now that are really trying to get there, and we are doing our part to get there too."
While some artists count on a hard image to appeal to fans, U-KRIME keeps their focus on being real. The future promises more shows, a tour to promote the album and of course, more music. And throughout all that – the truth, the whole truth and nothing but the truth.
For interviews and press information, contact dove@tygereye.net