Sky Balla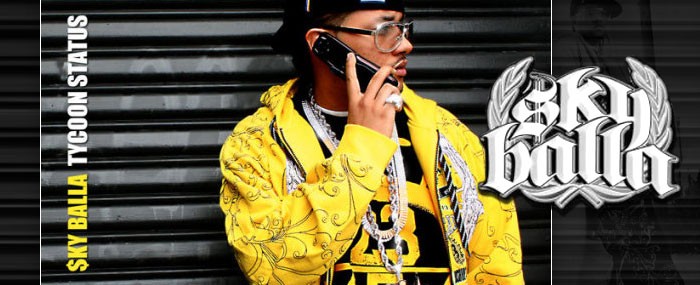 Website
Tycoon Status Tracklist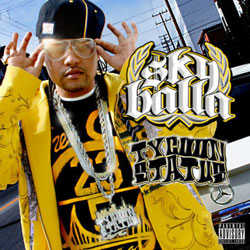 Free Mac Minister (Intro)
For Da Streets – prod. by Bova
Stay Grindin' – prod. by Sean-T
I Go – prod. by Cozmo
Direct Connect f/ Hell Rell – prod. by Matheo
Let's Talk Money – prod. by Cozmo
Creep With You f/ Tynisha Keli – prod. by Cozmo
Posted At Da Bar f/ Cassidy and Willie Henn – prod. by Raw Smoov
I'm About Mine f/ Mike Marshall – prod. by Cozmo
Mobbin' All Day f/ San Quinn, E-40 – prod. by Cozmo
What's Crackin' – prod. by J-Money
Need A Bigga Room f/ Bleu Davinci – prod. by J-Money
U.S.D.A. Interview With Big Von
I Ride f/ Slick Pulla – prod. by Raw Smoov
Hit Me On My Chearp f/ Turf Talk – prod. by Priceless
Tycoon Status – prod. by Traxamillion
**Bonus Track
Mobbin' All Day f/ Mistah F.A.B. and E-40 – prod. by C
Press: Interviews, Articles, & Reviews
Interviews
Reviews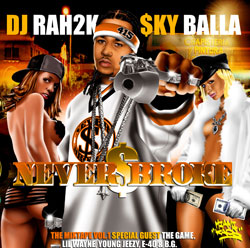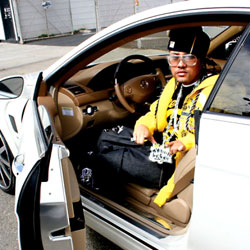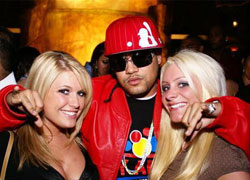 Sky Balla exemplifies the hustle and flow that are absolutely essential in today's rap game. The young Bay Area boss figured out early on how to make the industry work for him, and has been developing his musical creativity and polishing his business acumen. After working various independent ventures, he teamed with Bay Area label Tycoon Status Entertainment to create his aptly titled debut album, Tycoon Status. Features on the album include E-40, Cassidy, Hell Rell, San Quinn, Mistah F.A.B. and more, and will be released in association with Koch Entertainment on April 1.
The reality of how to succeed in life has never been an issue for Sky Balla. He learned early on growing up in the impoverished Fillmore section of San Francisco that he needed to tap into all of his God-given talents in order to achieve his dream of becoming an emcee. Sky turned his natural communication skills into make valuable connections. When he was just 16-years-old he joined forces with two other local kids to form Tha Gamblaz. Under the guidance of Bay Area superstars San Quinn and JT the Bigga Figga, Tha Gamblaz debuted on JT's local smash album Operation Takeover in 1997.
Later that year, Master P snatched up Tha Gamblaz for his West Coast Bad Boyz, Pt. II album, which went on to sell over a million copies worldwide. "After that I knew it was serious," remembers Sky. "I really had to stay focused and step my game all the way up. I knew it wasn't just a dream anymore – it was becoming reality at a young age. I was 17 on a platinum record."
Riding high off his new-found success, in 1998, Sky Balla decided to drop out of high school and split from his group in order to pursue a solo career. He started to work on his first album, but got sidetracked when he realized he could raise even more revenue in the streets as a full-fledged hustler.
Sure enough, his ventures paid off and the money started pouring in, but Sky had a bigger vision for himself. He invested his cash into studio time and promotional materials to promote his 2006 indie street album, Mobb Report. For two straight years, Sky acted as his own executive, publicist and marketing manager.
Using the industry contacts he collected as a youngster, Sky set up recording sessions in Miami, New York and San Francisco with the likes of Scott Storch, Lil' Flip, Keak Da Sneak and NORE. "I only pressed up 2,000 copies of Mobb Report," he says. "But that 2,000 copies got me further than a lot of people who sold 100,000 units, because the contacts I have now are priceless."
As his buzz grew in the streets and online, industry insiders started to take notice of Sky Balla's movement. In 2006 he teamed with the New York City-based Empire City Records, and negotiated a deal to create his sophomore album, Every Penny Counts. Unfortunately the project was never released, and after less than a year with Empire, Sky continued on his path to find the perfect business partnership.
Soon after, Sky met up with his old Bay Area friend Young Rell, CEO of the budding Tycoon Status Entertainment label. The two had known each other for over a decade, and the match up was a perfect fit. "We came together on the album in '07 after he got back from the East Coast," explains Rell. "I had all of my legal matters in order with the label, and he had the missing ingredient – all the contacts. When we decided to do business, we listened to some songs that he already had on wax and made the decision that we needed some new material."
After locking themselves in the studio for a solid month, Sky Balla and Rell sought out a distribution deal for the new project. In time, Amber Ravenel of Ravenel Records re-connected Rell and Sky with JT The Bigga Figga of Get Low Records, who is now a West Coast representative for Koch Entertainment. After a few meetings, the agreement with Koch was secured, and the April 1, 2008 release date set.
"The Tycoon Status album is going to be a classic," says Sky Balla confidently. "I did records with cats who out there grinding hard the way I do – Cassidy, E-40, Slick Pulla, Hell Rell, San Quinn, Bleu Davinci, Mistah F.A.B., Turf Talk, Willie Henn, Tynisha Keli and Mike Marshall. I worked with my favorite in-house producer Cozmo. He did most of the album, but I also have records produced by Sean-T, Traxamillion, Raw Smoov and Bova. I was in the zone recording this album. I have to supply the demand. People in the streets and industry both have been asking me when I am going to drop a album, and my fans have been waiting. I'm giving them what they want."
The first single from the album is the Cosmo-produced "Mobbin' All Day" featuring E-40 and San Quinn, and the track has a powerful Bay-friendly sound. In his many travels, Sky Balla wants people to understand that the Bay is always his home. Sky brought in Cassidy and William Henn for his follow up single "Posted At The Bar," which offers a definitive nationwide appeal.
While Sky Balla's swagger and energy is highly contagious, he remains humble in spirit. "I'm a heavy grinder, and hard worker," he says. "I feel I'm at my peak, and at my best and only getting better – I practice hard to prefect my craft. I first started recording in 1996, so I got years in this rap game. I take this music seriously, but there is always room for improvement. I know I'm not the best rapper alive, but I am defiantly one of the hardest hustlas alive. I'm real before this rap shit. I'm not a rapper, I just happen to be hot with a pen. I'm a hustla who loves the art, the music and money. I do it for the streets."
About Tycoon Status Entertainment
Tycoon Status Entertainment was founded by CEO Young Rell in 2006 as a promotion company for San Francisco's nightlife and special events. As Rell learned the ropes of promotion, he realized that he'd prefer to take the company in a different direction. He set his sights on assisting talented independent artists to release their music. With a solid West Coast base as the objective, Rell studied some of the iconic independent labels like Rap-A-Lot Records, Cash Money, SoSo Def and Slip-N-Slide.
"Even though we do have a few Bay Area record labels like Thizz Entertainment, Moe Doe Entertainment, Sick Wit It Records and Get Low Records, I personally don't feel like the Bay Area movement has reached anywhere near the level of success of other regions," explains Young Rell. "This is due to our independent labels playing the position of middle man to the majors. My main goal is to build a West Coast power house label."
A self-proclaimed perfectionist, Young Rell is looking forward to the Sky Balla project. "I like the album," he says. "I can listen to the entire album and only skip probably one song – not because it's wack, but because I would say it's just not my personal style. Sky is truly a musical person. I've been in the studio with a number of artists, and I've only seen a few with the talent that he has. I am excited about the situation, because I know we can make it."
For interviews and press information, contact dove@tygereye.net