E.S.G.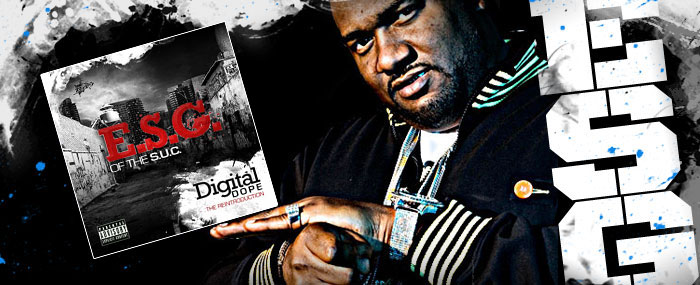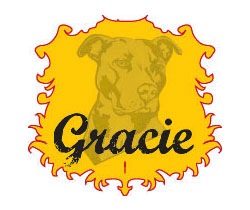 Website
Audio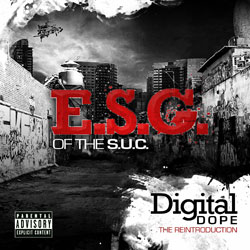 Ballin Just A Hobby f/ Big Cliff & Dj Bido – prod by Unique
One Hundred f/ Big Boy S.A. & Lil KeKe – prod by Da Beat Kings
Don't Dance – prod by Harvey Love
I'm Bad f/ ILL Tactics – prod by.Sean Blaze
Wutchu On – prod by Harvey Love
Paying My Dues f/ Duane Harris – prod by D Smuv
Whip It – prod by Sean Blaze
Fake and Real f/ C Money & Fred T – prod by JP
Gettem Hi – prod by JP
Making Money f/ J Stew, Big T & C Note – prod by Bam
Actin Bad – prod by Dj Bido
Press: Interviews, Articles, & Reviews
As a trailblazer of the early '90s, Houston native and Screwed Up Click member E.S.G. helped popularize the "chopped and screwed" style associated with his onetime home, Wreckshop Records. The "Everyday Street Gangsta" made his first major move in 1995 when Perrion Entertainment released Ocean of Funk, which featured his breakthrough single "Swangin' and Bangin'" and its accompanying "Chopped and Screwed" mix. E.S.G. is staying true to his roots with his new single "Actin Bad" and upcoming album Digital Dope, slated for release on February 10, 2009 (SFL / Gracie Productions / EMI).
E.S.G.'s early success in '95 with the chopped and screwed sound inspired Perrion Entertainment to reissue the most impressive songs from Ocean of Funk -"Swangin' and Bangin'," "Crooked Streets" and "Smoke On" – on a new album the same year entitled Sailin' da South, which was distributed widely by Priority Records. Following his amazing breakout buzz, E.S.G. maintained a low profile while imprisoned.
Despite his personal setbacks, the chopped and screwed movement was reaching the masses, and E.S.G. came home in 1998 with renewed artistic energy. He created the intensely dark album Return of the Living Dead (Black Hearted/SoSouth), and took on an increasingly hardcore stance as competition between MC's thrived within the Dirty South movement.
E.S.G. found a visionary match with up-and-coming Houston label Wreckshop Records, a company driven by the reputation of the immortalized DJ Screw. E.S.G. recorded the albums Shinin' Grindin' in 1999 and City Under Siege in 2000, followed by a chopped and screwed remix of the latter. Unfortunately, DJ Screw passed away in 2000, leaving behind a legacy of music that E.S.G. and his counterparts in the movement were determined to carry on.
In the wake of the new millennium, E.S.G. was touted as one of the eminent rappers in Texas alongside the likes of Lil' Keke, Fat Pat, U.G.K. and Lil' Troy. He capitalized on his reputation by co-establishing S.E.S. Records. The label's first release in 2001, Boss Hoggs Outlaws, paired E.S.G. with newcomer Slim Thug, and gave the imprint credence in the ever-growing Southern market.
While E.S.G. has been grinding independently for the past few years, changes in music trends and the Houston music scene have given him even bigger reasons to ensure the niche for chopped and screwed music everywhere. His new project Digital Dope takes the traditional street album to a new place, with a focus on internet fans.
"This album is basically what it's called – digital dope," explains E.S.G. "We've been doing mixtapes and screw tapes down South so long. This time, instead of just a normal mixtapes over industry beats, we decided to give what we call in Texas 'a skee taste' of all original tracks for the growing online community. People have been eating off us for years over the web, so if you can't beat 'em, join 'em."
Digital Dope features longtime Screwed Up Click affiliate Lil' KeKe and crooner Big T, known best for singing the hook on Lil Troy's platinum single "Wanna Be a Balla." E.S.G. is also incorporating the talents of artists like Big Cliff, Big Boy SA, ILL Tactics, Duane Harris, J Stew, C-Money and Fred T from his new label S.F.L (Screwed Fo Life). Production includes innovative beats from Sean Blaze, DJ Bido, Unique, Da Beat Kings, Harvey Love, D Smuv, JP and Bam.
E.S.G.'s business plan for the S.F.L. label begins with the February 2009 release of Digital Dope in association with Gracie Productions and EMI distribution, and will follow with the album Everyday Street Gangsta, already in the works. Features already locked in for Everyday Street Gangsta include Bun B, Chamillionaire, Slim Thug, Big Hawk, Trae and E.S.G.'s seven-year-old son Killa B.
"Every region across the globe has someone that has helped to pave the way for others," says E.S.G. "Scarface, Bun B and Tony Draper are the people who opened doors for me, the same as I have been the first to do songs with many up-and-coming artists in my region. Over the years, we all became household names in this part of the U.S., and consistently dropped good music without major promotion. Even still, we could sell nearly a million records independently with the fanbase we created. I just wanna keep making music for game, to keep eating and to help inspire new artists or the next young C.E.O."
For interviews and press information, contact dove@tygereye.net