Envy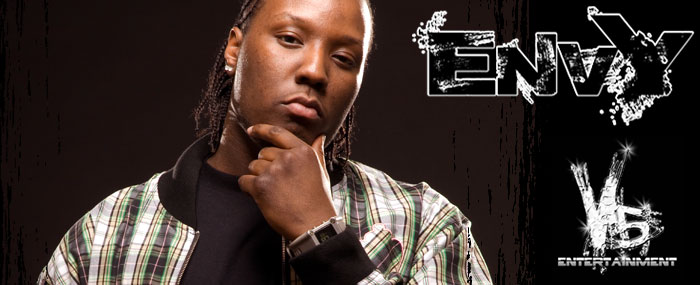 Website
Ringtone
My Time To Shine
All I Do Iz Get Bread
From live bands to synthesized club music, the Midwest's music identity spans pop to soul, country to jazz, rock to Hip Hop. In Minnesota specifically, legendary musicians like Prince and the band Mint Condition branded the state internationally through years of quality music. In 2008, young rapper Envy is poised to bring even more positive attention to the Minneapolis sound with his own brand of radio-friendly Hip Hop.
After debuting at #3 on Billboard's Hot R&B/Hip Hop chart, and hitting #1 on the Hip Hop/R&B Single Sales chart, Envy's new single "Ringtone" (featuring and produced by Fedarro) enjoyed an impressive five-week run on the Hot Single Sales charts, hitting #16 in early June. "Ringtone" is picking up speed at radio stations throughout the Midwest and Southeast areas, and, logically, Envy's V5 Entertainment team is working on a ringtone deal for the track.
Envy began his rap career very early in life. When he was only 10-years-old, his sister taught him how to put the words together, and compliments came from every direction as the budding MC honed his skills. Sadly, Envy's sister passed away when he was just 17, which gave him even more reason to take the music seriously. He entered open mics and rap battles to get his weight up in the Minnesota scene, and eventually the work paid off as more people began to recognize his artistry.
After enduring the challenges that many independent artists face, from promoters asking the performer to pay to perform, to the basic financial obstacles that plague artists everywhere, eventually Envy teamed with V5 Entertainment. The partnership allowed Envy to incorporate a strong business structure behind his music. "The label has opened me up financially and it broadens my horizons," says Envy. "I get the freedom to do what I want, and they put their trust in me knowing that I'm gonna come up with some fire for them. They let you control your energy more."
As Envy's MySpace page picks up at a growth rate on views of 20% per week, the V5 team has been pushing the "Ringtone" single very successfully without any major backing. "A lot of people who have heard the song here have been trying to get me to open up for local shows, and my phone is always ringing now," explains Envy. "We've been pushing it locally and getting a good response, also we've been pushing it out in Detroit, now it's getting played in New Orleans. We're working on New York and a lot of surrounding areas in the Midwest. I never really expected it to be like this, it's like wildfire!"
Realizing that the single is just the start of his movement on a national level, Envy is developing the ways to define his personal sound to the masses. "My music is different, innovative and refreshing, because a lot of people are so used to hearing the same style on the radio right now. I definitely think it's original and catchy."
Envy cites legends like Prince and Mint Condition as notable influences growing up, however he, like many other Midwest rappers, didn't have a lot of Hip Hop artists to look up to. "We had Nelly come out of here and you can say he has his own genre, Twista as far as being on a large scale. Pretty much after them and Eminem, I don't really know any other people that have had longevity. I would like to follow their footsteps as far as getting known.
"There really hasn't been anybody who's actually put a stamp on the game from the Midwest to make the region more of a household name," Envy continues. "You're always gonna hear about Atlanta and New York and some of the West coast, but nobody's ever really had just the Midwest on lock. I want to at least be known as one of the first Hip-Hop artists to come up and really rep Minnesota and open the doors for people. There's a lot of talent here, and people don't really realize that."
The next step for Envy is to record a full-length album, and he's working hard to develop a full package in preparation for major distribution. "You just can't get signed off of a freestyle in the bathroom anymore and go from there," he says. "Pretty much they want you to have your whole package ready. I'm just working on getting beats. My album is done lyrically as far as the words and stuff like that. I'm just getting beats made for it specifically, just matching it up and going from there. Also, I'm working out with a personal trainer, getting my body right for the camera."
For interviews and press information, contact dove@tygereye.net