Divinity Roxx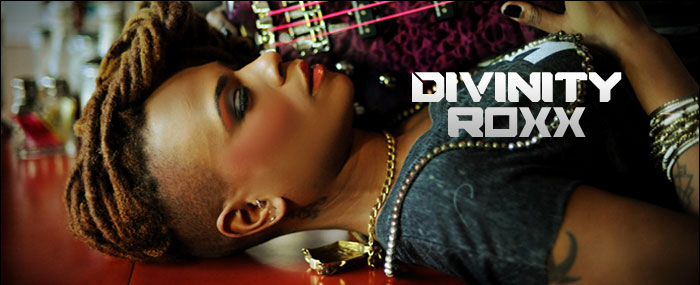 Divinity Roxx has wielded her bass guitar as a weapon in front of 50,000 screaming Beyoncé fans. She's toured and appeared on recordings with Grammy Award Winning bass virtuoso Victor Wooten. She's shared the stage with such artists as Kanye West, Jay-Z, George Michael, and Destiny's Child.
But it is in her solo performances where Divinity Roxx shines brightest. Her live show packs a powerful punch, as Divinity not only wields the bass guitar as her mighty sword, but delivers powerful lyrics and passion that entice audiences into her "Roxx Boxx Experience".
In keeping with her limitless energy and zest for performing, Divinity Roxx unveiled The Roxx Boxx Experience EP in October 2012 via her own iRoxx Entertainment. With appearances from funk legend Bootsy Collins and Southern rap veteran Killer Mike, The Roxx Boxx Experience is chock full of Divinity's unique musicianship and production.
Growing up in Atlanta, Georgia, Divinity explored music from a young age. She honed the ability to rap and play bass guitar simultaneously; talents that gained her the respect of legendary musicians, music aficionados, and music fans worldwide.
In 2006, Divinity joined Beyoncé's all-female band as Musical Director and bassist. She toured the world with this global megastar, and is a featured part of Beyoncé's current DVD collection, including The Beyonce Experience (2008), I Am…Sasha Fierce (2010), and I Am…Yours (2010).
Divinity has also appeared on live recordings and countless television shows, including The Grammys, Saturday Night Live, Oprah, David Letterman and many more. One of the highlights of touring with Beyoncé was performing a show at The White House for President Barack Obama and his family.
Divinity has recently developed her own signature bass guitar with Warwick/Framus and is currently finishing up her solo debut. The Roxx Boxx Experience is the ultimate mash-up of hip-hop and rock – blatant, boisterous and unconventional.
"I like that my album doesn't sound like anything else we put it up against," Divinity explains. "I like that it is honest; it is bold. It is edgy and hard! Any good art expresses itself beyond itself. This mashing up of rock and hip hop allows me to do just that, express the epitome of myself, the whole of myself, the musician and the writer, the performer and the artist."
Although picking favorite songs is never easy for an artist, Divinity feels that a couple of tracks on Roxx Boxx will stand out to listeners.
"'Get Yo Fix' is about the beginnings of me, and what made me who I am. I like the honesty on that song," Divinity asserts. "The hook is 'I ain't trying to be somebody I ain't cuz I can't, and I ain't trying to please you and what you think.' It's the song that basically defines me as an artist, as a woman and as a human being in this world, in this industry. Then 'Snap' features Bootsy Collins, and is a throwback to straight emceeing. It's another take on my story, in a more blatant and unforgiving way. It's the evolution of me and who I am, and an ode to all the obstacles and people who made me feel like my art was meaningless.
"Meanwhile, 'Get Here' is deeply personal, but also global since the words could affect so many people. There's something to be said about being a Black woman from the South who was raised economically poor, but vastly wealthy in matters of love and ideals. Something about this song expresses that for me."
While she has put the range of fierce heart to fragile emotions into the songwriting on The Roxx Boxx Experience, Divinity has very simple hopes for the way fans relate to her.
"The only thing I want people to know at this point in my career is that I am here," Divinity says. "I am bold. I am unapologetic. I have lived an amazing story, and it's all true. I want to encourage people to live their story and inspire people to continue to move forward, move beyond, explore, and seek more. This EP is truly a personal expression of all that I am at this point in my life. It's not merely an album, it's a testament to the journey. It's a non-fiction piece set to music. It's my story."
For interviews and press information, contact dove@tygereye.net
Divinity Roxx Sizzle Reel

European Club Tour x "Ghetto Rock" 2012

The Roxx Boxx Experience at Whiskey A-Go-Go 2011

Bass solo at Beyoncé Live Experience 2008