DJ Adriana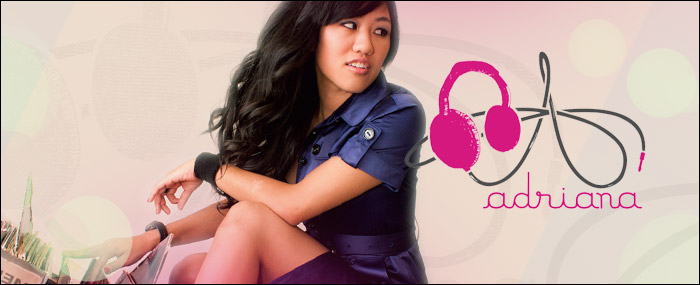 From the runway to the university to the DJ booth, Adriana Carrillo-Hsu is the epitome of the total package. Adriana brings a refreshing style in her delivery of multiple music genres, and she is setting pace to be the next big name in the nightlife arena. Between celebrity-driven parties on the lively Las Vegas strip to regular gigs in the Southwest region, Adriana is quickly becoming the go-to DJ for promoters in the know.
With a professional background in events and marketing, Adriana brings her vast knowledge of the business, from conception to performance and execution. Currently pursuing a Juris Doctorate Masters in International Marketing to follow her three completed Bachelor's of Arts degrees from Arizona State University, this exotic beauty, whose unique looks stem from Peruvian and Chinese roots, has also proven successful in the fashion sector. She has appeared in several national and international print features, with more in the works.
Adriana has always set her sights high. She was introduced to the world of dance at age 3, and was always moving to the beat in her ballet, jazz, tap, or even flamenco shoes. Some things never change, because you will still catch her dancing any time music is playing. Throughout her childhood, Adriana learned to play a number of musical instruments, including traditional piano, violin, harp and the ancient 古箏 (guzheng or zither).
Adriana was introduced to Hip Hop by her older brother, and her knowledge of music within diverse genres grew as she did. The combination of musical passion and the sheer love of entertaining a crowd led Adriana to DJing. Of course her goal was to take her own enthusiasm for music to the masses, but not without learning the fundamentals of the art like some of her idols.
"There are a few female DJs that I really look up to," Adriana explains. "As turntablists. Tyra from Saigon and DJ Shortee have influenced me, and as far as utilizing their name and fame for a good cause, DJ Tina T with Camp Spinoff is great. As far as rocking a club, I love DJ Kayper. I was fortunate to learn some good tricks in turntablism when I decided to make it my full-time career by an amazing battle DJ. I personally feel that since I was 18, I have gotten to hone my programming skills, and latch on to the energy and vibe that really gets the crowd going."
Although Adriana continues to be inspired by those who have blazed trails before her on the turntables, she is beginning to carve out her own niche in the diverse world of DJing.
"I've been surrounded by music my whole life, so I've been a slave to rhythm as long as I've known," says Adriana. I bring the complete package; the talent and skill mixed with the right music in any genre, a great attitude which can be felt through my set, and also a classy appeal that draws people in. So many girls try and bank on their looks, but that can only open the door for them. The opportunity for females is there, and I excel to be not only the best female DJ, but the best DJ that I can be. I will earn the respect from the people that came before me and those to follow, because I have the passion for it. I don't do it for the money or fame – even though neither of the two hurt!"
With new goals on the horizon, Adriana is picking up steam in Vegas, with frequent travel to Hong Kong, Los Angeles, Taipei, Scottsdale, Miami and New York. The Las Vegas scene alone provides unparalleled energy, especially when it comes to some of the world's best DJ's rolling through to kick off the parties.
"To me, Vegas is the definition of variety! In one night, I can hear DJ Vice, Skrillex, Deadmau5 and A-Trak! In one week? Incorporate, DJ Reach, Alesso, Afrojack, Calvin Harris, Manufactured Superstars, Steve Angello and more. Inside of a venue like Marquee, I could hear Hip Hop from Eric D-Lux and House from Dash Berlin in the same hour. It is incredible. Granted, other cities are graced with the presence of these amazing DJs, but we get it weekly! I have lived all over the U.S. – Scottsdale, NYC, Chicago, Miami, L.A. – and in Asia – Taipei and Hong Kong. I have gotten the best of every city and, have created a style that is my own. I am in tune with what can keep the dance floor moving and the drinks pouring!
"I feel that not everyone can go out to places in Vegas every night," she continues. "They get all dressed up, they pay top dollar for an amazing vacation, and they come to clubs like Marquee, XS, Surrender, or Pure because they want to have nights that they will remember forever! As a DJ, it is my passion and desire to make sure they get everything they ask for and more. Now, I want to bring a little bit of Vegas with me everywhere I travel to play."
Rounding out the year into 2012, Adriana will be increasing her exposure across the United States. Her goal is to travel to embark upon more world travel in the next year, and she aspires to become a brand ambassador for companies that understand her vision. Additionally, she has also taken on remixing songs, and will eventually delve into professional music production.
"I would really like to work with production more," explains Adriana. "I sing and I play the harp and the piano, so music just runs through my blood. When it comes to remixes, I love making a song into something completely different without ruining the original. I would like to eventually remix songs with my own production or my singing down the road. I'm just taking it one step at a time."
For interviews and press information, contact dove@tygereye.net