Midi Mafia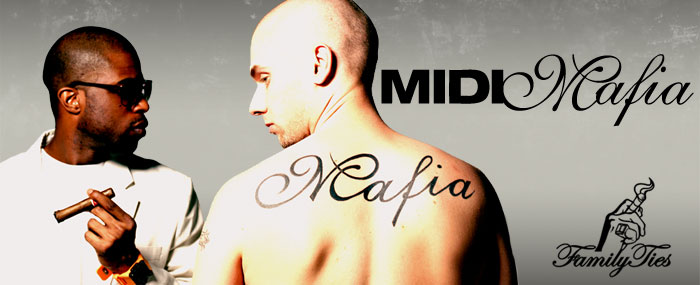 Midi Mafia is the deadly combination of DJ/producer Dirty Swift, and MC/producer Bruce Waynne, who formed an unlikely partnership in 2002. Bruce Waynne grew up in the East New York section of Brooklyn, amid all the chaos and hustle of the BK streets. A brief stay in Rikers Island proved enough to pull his attention away from the streets and towards a career in the music industry, where his talent for creating catchy hooks and beats lead him to sell over 60,000 units independently with his former group US.
Dirty Swift is a Canadian-born beat junkie who caught the music bug at an early age. He became a turntable wiz by high school, winning the DMC Canadian DJ Championship soon after, and later branched off into production, working with some of the biggest names in Canada (K-OS, Choclair etc). Determined to penetrate the US market, Swift left Ottawa, Canada and headed for The Hip Hop Mecca, NYC. As chance would have it, Swift and Bruce met in a Brooklyn recording studio, while both working on the same project. They vibed, and soon after, formed a partnership hence, the beginning of Midi Mafia.
Their union has since resulted in one of the most powerful, extraordinary production efforts of the past two years. Their Number One hit single, 50 Cent's "21 Questions," was one of the biggest songs to hit the charts in 2003. Midi Mafia now sits atop of an impressive list of elite artists and producers bubbling on the surface of today's music scene. They have collectively spawned some of the heaviest remixes and hottest tracks of the year, and are now rightfully emerging as one of the industry's most sought after production teams.
Since their inception, the pair has produced smashes and/or highly anticipated projects in the works for Nelly, Busta Rhymes, 50 Cent, Mos Def, Lil Mo, Westside Connection, Talib Kweli, Tamia, Fantasia, The Bravehearts, NORE, CNN, G-Unit and more. Additionally, the group's exclusive remixes continue to land coveted spots on radio and mixtapes all across the country. The group has also garnered national media attention, and has appeared on BET's 106 and Park , Rap City and The 2003 Billboard AURN Hip Hop and R&B Awards.
Now outfitted to bring their very own offerings to the music industry, Midi Mafia are preparing to unfurl their new label Family Ties, which is distributed by Atlantic Records. Currently they are working on the first artist signed to their imprint, an R&B female from Brooklyn named Deemi, as well as their own debut album.
As producers, CEOs and now artists, the twosome have more than reason enough to be excited. Working relentlessly with their team and other artists, the duo is expected to continue dropping hot remixes and surefire hits. Known for masterfully assembling whole songs – not just a beat or a hook, Bruce Waynne lends his distinctive vocals and charismatic hooks, while Dirty Swift applies his DJ influenced methodologies and technical expertise. The result is an innovative blend of hooks, beats and choruses – just add vocals and you're song is a ready-made hit.
With their artist deal, a new label deal, a remarkable catalog of hits and a long laundry list of artists calling on them to produce their magic, Midi Mafia has no choice but to be at the forefront of the next great music movement. Expected to bring even more heat in 2006, this two-man hit-making machine has definitely created a winning formula. Get Connected!

For more information and press information, contact
dove@tygereye.net
For production inquiries, contact midimafiamusic@gmail.com
Singles and Remixes
2003 – 50 Cent "21 Questions" (Shady/Aftermath)
2003 – Tamia "Officially Missing You" remix f/ Talib Kweli (Elektra Records)
2003 – Rusty Waters "More Cornbread" remix f/ 8 Ball & Juvenile (Virgin/EMI)
2003 – Lil Mo "Forever" remix f/ Baby Cham
2003 – Lil Mo "21 Answers" remix f/ Free (Elektra)
2003 – Baby "What Happened To That Boy" European remix f/ Clipse
2004 – CNN "Yes Sir" (Def Jam)
Contributions to Full Length Albums and Compilations
2003 – 50 Cent "21 Questions" – Get Rich Or Die Tryin (Shady/Aftermath)
2004 – G-Unit "Groupie Love" – Beg For Mercy (G-Unit/Interscope)
2004 – Bravehearts "Sensation", "B Train" and "Buss My Guns" – Bravehearted (Ill Will/Columbia)
2004 – Gemma Fox "Messy", "Goodman", "Crazy", "Love Me", "Hurting Me" – Gemma Fox (Universal/Polygram UK)
2004 – Westside Connection "Gotta Have Heart", "Izm" – Terrorist Threats (Priority) *
2005 – Nelly "Getcha Getcha" – Sweat (Universal)
2005 – Young Buck "Thou Shall" – Straight Outta Cashville (G-Unit/Interscope)
2005 – Jean Grae "You Don't Want It" – This Week (BabyGrande)
2005 – Talib Kweli "We Got The Beat", "Black Girl Pain", "Rock On" – The Beautiful Struggle (Geffen)
2006 – Miri Ben-Ari "Its Going Down" f/ Cash Money – The Hip-Hop Violinist (Universal)
2006 – Mack 10 "Keep It Hood", "So Gangsta" – Hustlers Handbook (Hoo Bangin'/Capitol)
Special projects
2005 – SCEA NBA 06 "The Life" Videogame – Scored and produced game soundtrack, including original tracks by Talib Kweli, Sam Scarfo, Deemi, Midi Mafia, Bad Seed, Mims, and Precious Paris
2005 – SCEA MLB 06 Videogame – Produced original track for game soundtrack – T-Reps, Notorious BIG f/ Deemi, Kanye West & Stat Quo, and Busta Rhymes f/ Flipmode Squad
2006 – SCEA NBA 07 "The Life II" Videogame Scored and produced game soundtrack
2006 Unreleased Projects
-Brick & Lace – "Rally Back" on upcoming album (Geffen)
-Deemi – "Soundtrack Of My Life", "Ima Be Alright", "I Don't Care", "You Were There" – Soundtrack Of My Life (Family-Ties/Atlantic)
– Fantasia – Multiple songs on upcoming album (J Records)
– Flipsyde – Multiple Songs on upcoming album and "Happy Birthday" Remix (Interscope)
– G-Malone – TBA (Big Ego/Sony)
– Hayes – "Sucka' for Love", "That's Ok", "What's Up Now" on upcoming album (Interscope)
– Lebo – Multiple Songs on upcoming album (Big Ego/Sony)
– O-Solo – "Ching-A-Ling" on upcoming album (TVT Records)
– Penelope Jones – "Waiting" f/ Brick & Lace, "My Shoes" on upcoming album (Universal)
– Players Circle – "Duffle Bag Boyz" – TBA (DTP/Universal)
– Sam Scarfo – "Purple Haze", "So Gangsta" on upcoming album (Def Jam)